Clothing industry put on notice as fast fashion and unwanted clothing takes environmental toll
Early in 2023, like millions of other Australians, Kate Hulett made a new year's resolution.
Key points:
Fast fashion is a major problem in many developed countries
A huge amount of unwanted clothing ends up in landfill
There's a push for the clothing industry to be more accountable
Knowing it was a pledge she would struggle to keep, she put it on social media, declaring to her 8,000  followers:
"If I write this one out loud, I'll feel [more] guilty if I break it," she wrote.
"And seeing as I'm a grown woman, mainly fuelled by guilt, this should prove an effective technique.
"No new clothes in 2023."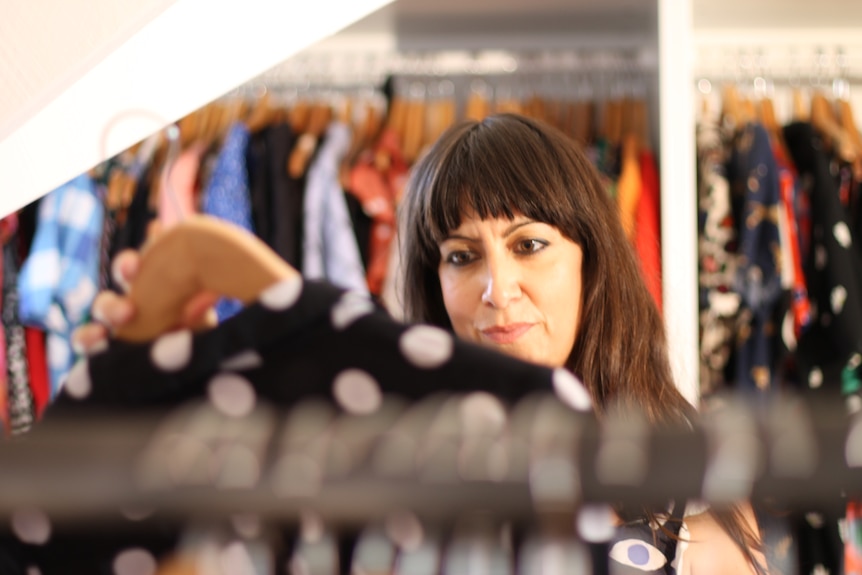 It might seem like a small, extremely first-world, gesture.
But for the artist, small business owner and lover of clothes,  it felt like the only useful thing to do in the face of mounting evidence of the cost to the world.
"I think it was mainly the waste that really got me," she said.
"There were all those images in the media of the masses of mainly western clothes in landfill in poorer countries that have just been dumped.
"And then understanding that most of the people that make our clothes are women and children and they're paid an absolute pittance in order to make a $20 T-shirt.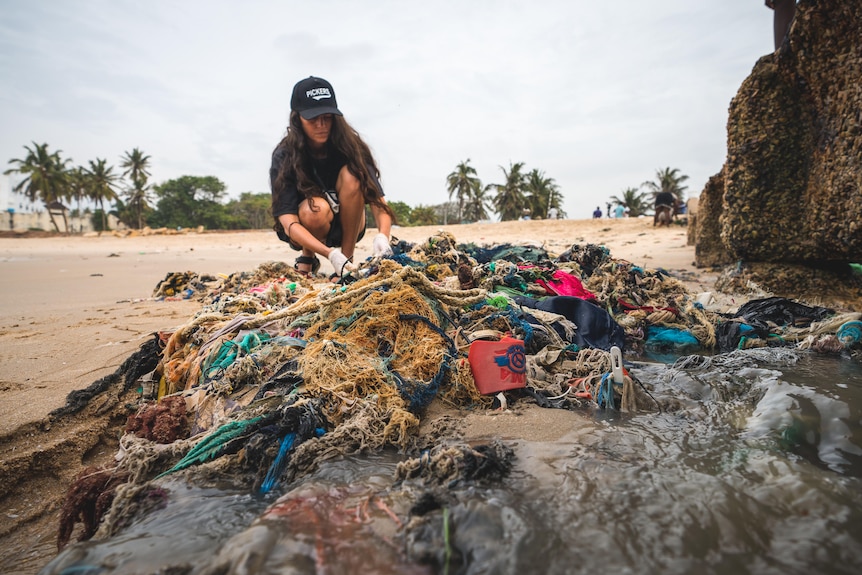 "I think once you've learnt some of that stuff, you can't unlearn it and pretend it doesn't exist."
Little discarded clothing recycled
According to a recent report by the Australian Fashion Council, about 227,000 tonnes of discarded clothing is sent to landfill in Australia each year. 
Only 7,000 tonnes is recycled.
On top of that, more than 100,000 tonnes that cannot be sold in charity shops in Australia gets exported overseas each year.
If it cannot be sold there, it gets dumped in landfill in those countries.
Synthetic fabrics can take hundreds of years to decompose.
"Ignorance is bliss and I'm the opposite of that — I'm aware and ashamed," Ms Hulett said while allowing the ABC to film the subject of her guilty pleasure — an extensive wardrobe of colourful garments that she has bought and treasured.
Retail therapy benefits short-lived
Why the new clothes feeling means so much to people — especially women — is something Ms Hulett has been pondering of late.
"Clothes are, particularly a woman's, identity, you know — it's a big part of our lives," she said.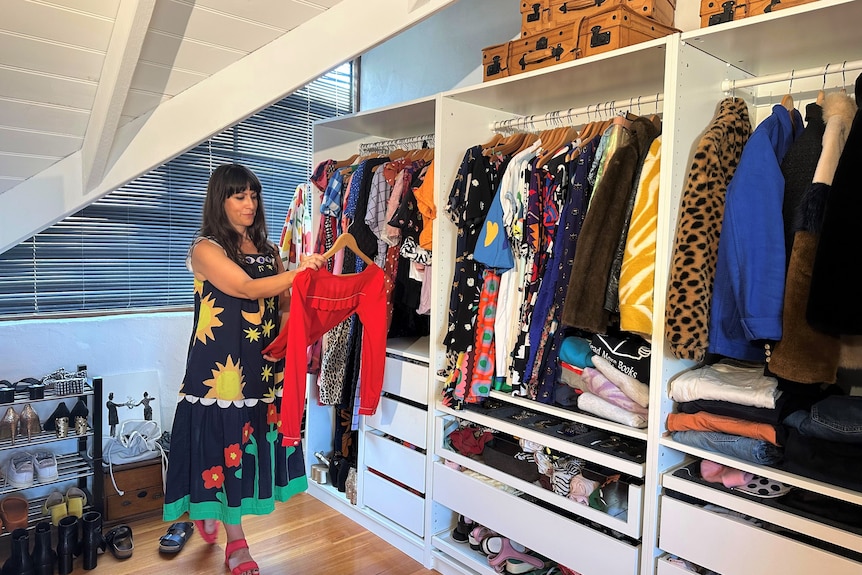 "There's a nice feeling of buying stuff online and looking forward to it arriving and opening a package and there's a whole psychological kind of intrigue in that process.
"Retail therapy is a thing and you feel good when you spend money but it's such a short-lived thing.
"And so reflecting on it … am I filling a void or looking for some pleasure in a kind of hopeless pursuit?"
Instead of buying new clothes, she is altering some of her existing wardrobe and getting more wear out of the clothes she already has by styling them differently.
"We don't need to have new stuff to look good all the time," she said.
"It's fine to wear a dress 50 times."
And now she has shared her resolution, momentum is building.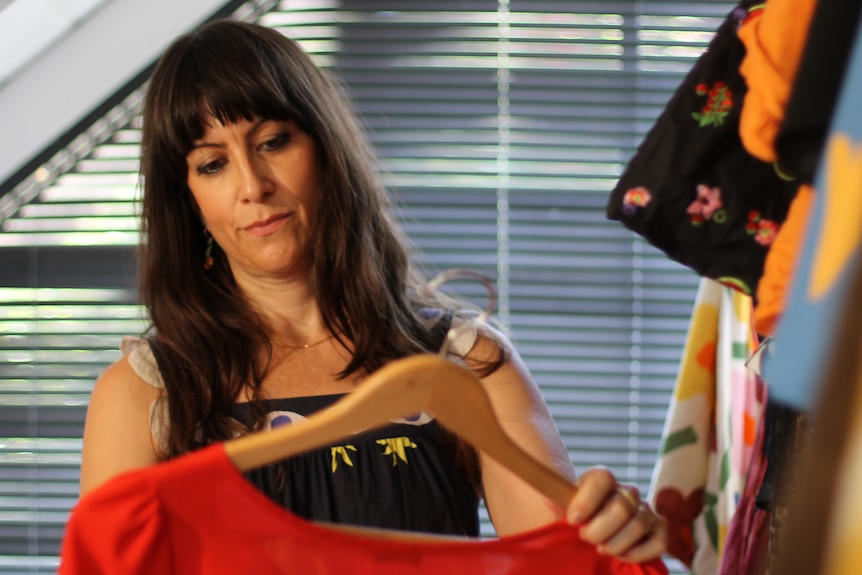 Other women have reached out to say they are taking a similar stand, reducing their fashion footprint.
"Awareness is a big thing. If I tell 10 people and they each tell 10 people, there's this multiplication effect of awareness," Ms Hulett said.
But the figures show the scale of the effort needed to turn the fast-fashion ship around.
The cheap clothing problem
Research from the Australian Fashion Council based on 2018-19 figures, shows the average Australian buys 56 items of clothing a year, including socks and underwear, making us among the biggest purchasers of clothing in the world.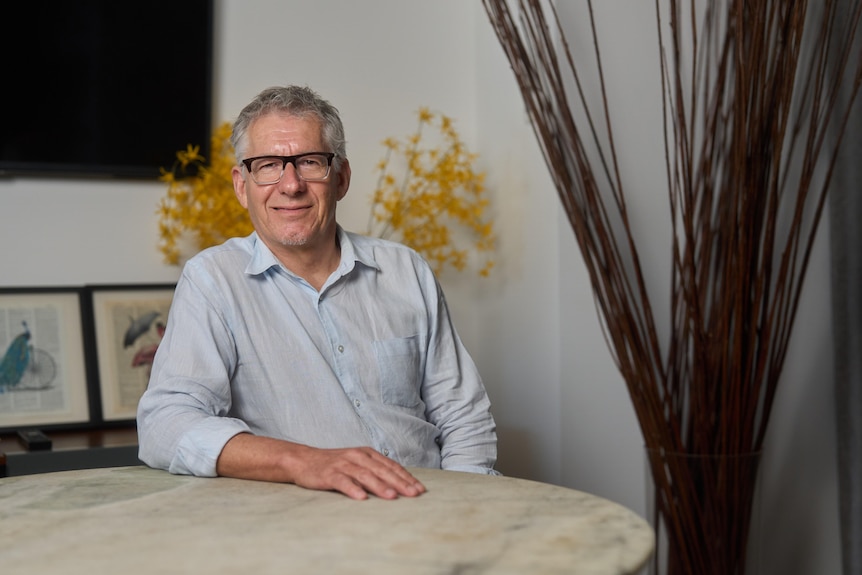 Gordon Renouf from Good on You, a Sydney-based website that rates fashion brands on their sustainability, says consumer behaviour has changed dramatically as prices have fallen.
"We as households are spending about the same amount of money on average that we spent 20, 30, 40 years ago, but we're buying four times as much clothing for that money," he said.
"Consumers have been trained to expect clothes to be extremely cheap and to be able to be thrown away."
Onus being placed on clothing industry
It's that mindset that the Fashion Council will try to tackle in a new product stewardship scheme that has been funded to the design stage by the federal government.
The scheme, being unveiled in coming weeks, will primarily focus on the massive landfill problem both here and overseas.
And although part of it will be a national awareness campaign for shoppers, it will also place the onus on the clothing industry to transform itself.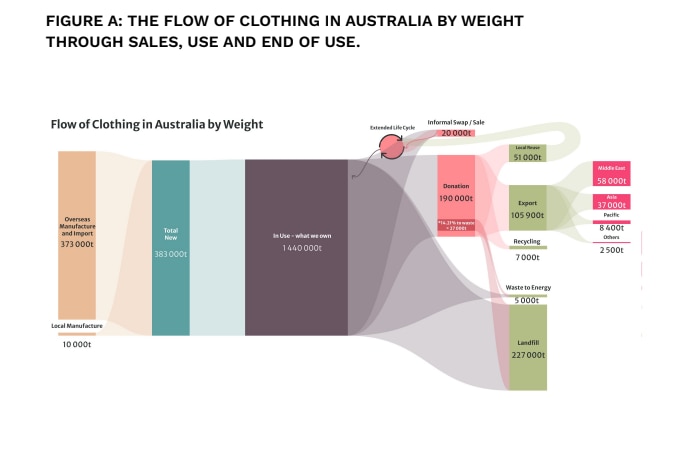 The Australian Fashion Council's Danielle Kent says all stakeholders in the clothing supply chain will be targeted in the new scheme.
"We can't just keep using resources as if they are infinite," Ms Kent said.
"Whatever comes into the Australian market new, we need to be responsible for it until the end of its life."
Voluntary garment fee proposed
Clothing brands both in Australia and overseas will be invited to be part of the scheme, by paying a fee for every garment coming onto the market.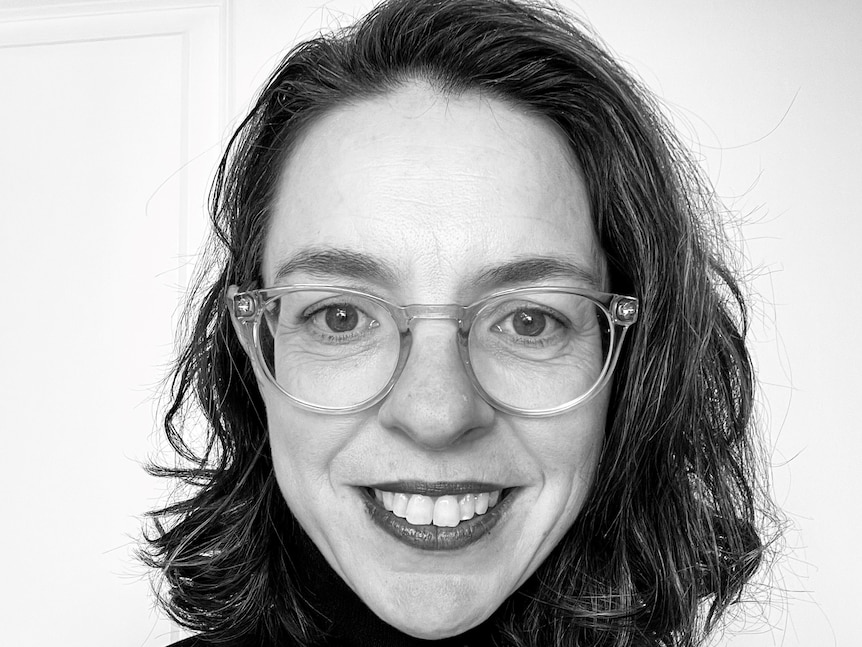 The funds will be funnelled into strategies that boost the reuse and recycling of clothes and the increased use of recycled materials and organic yarns.
The scheme will initially be voluntary.
"We really are sort of also saying to government, we need it to be co-regulated, that's where we know you get the maximum impact when everyone's onboard," Ms Kent said.
"And then there's no free riders."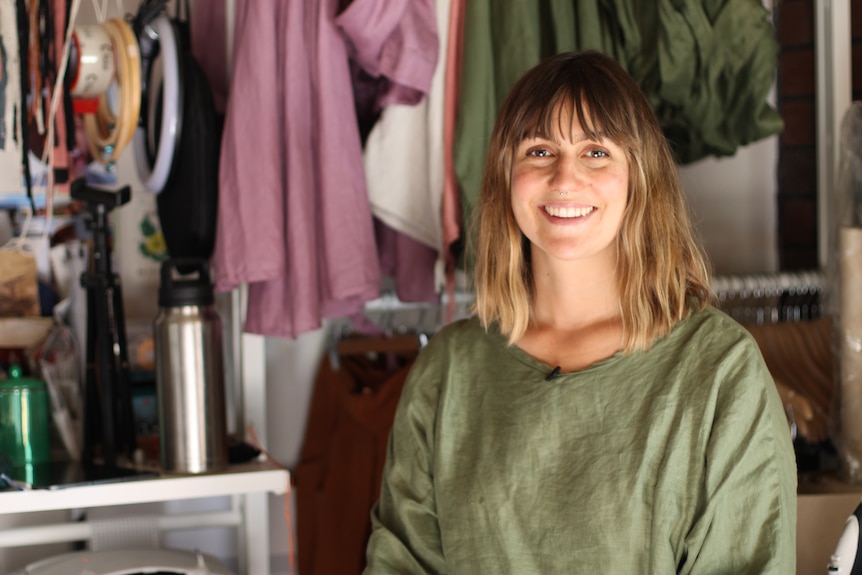 For up-and-coming Perth-based designer Elly Sumner, the scheme is a good first step. 
"I think it's a good initiative, but who knows if the big corporations are going to embrace it," Ms Sumner said.
"It would be nice to have a bit more reinforcement on it, so that everyone is toeing the line."
Ms Sumner's garments are homemade using linen, a natural fibre that's biodegradable.
If she cannot reuse her offcuts, she composts them.
She makes clothes according to orders so there is no waste.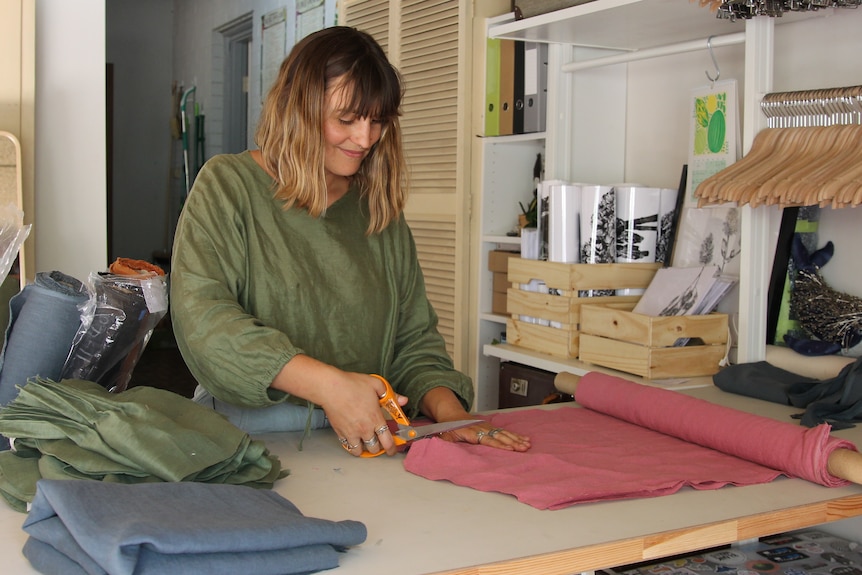 She can't compete with fast and cheap fashion but would like something closer to what resembles a level playing field.
Spreading the message about the need for sustainability is just as important to her as the creativity of the job.
"I like to pride my business on selling the process just as much as the product and educating the public on why it's important to spend more money on a product," Ms Sumner said.
"For every dollar that you spend, that's a vote to keep something in the planet.
"To value what you have rather than just be like 'I'm going to willy-nilly buy this, not really think about it and throw it out.'"
While the new scheme will focus on reducing clothes and textiles going to landfill, there are other big priorities that need to be addressed according to Mr Renouf.
Over the past five years, his Sydney-based website has rated about 4,500 fashion brands globally according to their impact on the planet, people and animals.
Greenwashing concerns
Mr Renouf believes Australia needs to consider following Europe, the UK and US in examining regulations to force the clothing industry to reduce its carbon emissions and abolish worker exploitation.
"We need laws that ban the least-acceptable practices, that ban certain types of chemicals, certain types of labour exploitation," Mr Renouf said.
"Secondly, we need laws that require brands to be transparent and very specific about what they should disclose."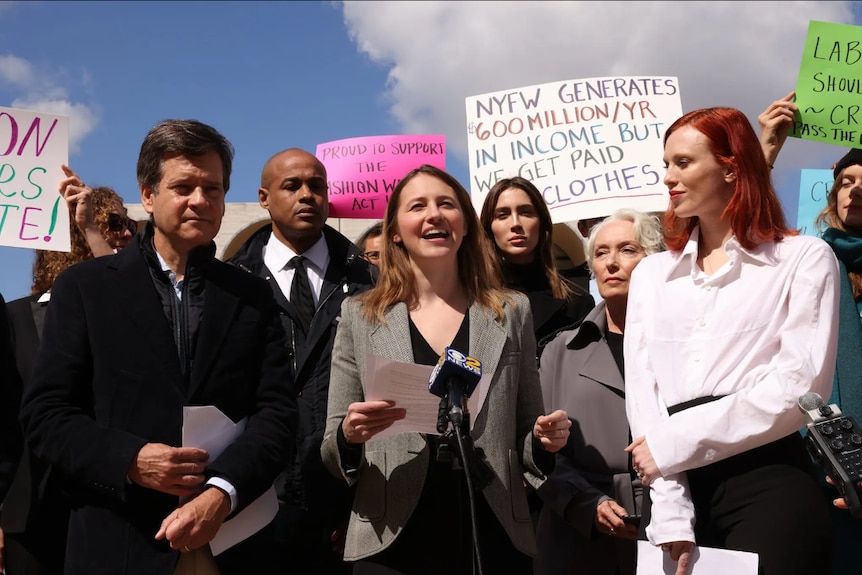 He said this accountability was vital to consumers' understanding of the impact of what they were spending their money on.
"Basically, more brands are actually putting information [on sustainability] on their websites for customers to see," he said.
"From 33 per cent of brands not publishing any information, that is down to 15 per cent.
"But as brands are recognising that there are more and more customers who are interested in their sustainability performance, we're seeing an increase in greenwashing.
"And that's a big concern."
Plibersek warns fashion industry
Asked whether the federal government was considering regulating the clothing industry in Australia, Environment Minister Tanya Plibersek issued a broad statement saying she was putting industries on notice generally about their product stewardship.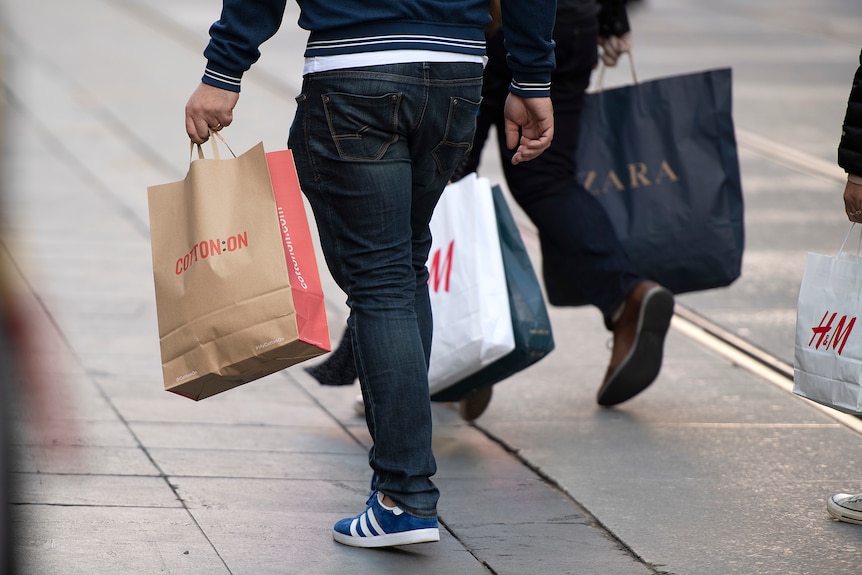 The minister said she had convened a meeting of the country's environment ministers last October about the need to design out waste and pollution and achieve a "circular economy" by 2030.
"I'm putting industries on notice for their product stewardship," Ms Plibersek said.
"If industries don't step up, I'm not afraid to take stronger action."
link