Last week I went shopping with some friends who also work in fashion. We did high-end boutiques first and then went hunting through the stalls at a vintage market. At the market, more than the boutiques, we found ourselves geeking out over the clothes' intricate details.
Silk crepe, 1940s tea dresses with delicate pleats along the waist; suits made of corduroy so thick they were still crisp, and field jackets in cotton so heavy they looked barely worn. As we left, the conversation turned to the construction and quality, how much better it was than anything new we had seen.
It's no secret that clothes used to be made with more attention to detail. Mass production and synthetic materials are so pervasive it's increasingly difficult to buy well-made clothes, no matter how much you are willing to spend.
"Fast fashion has normalised cheaper methods and fabrics," says host of the Wardrobe Crisis podcast, Clare Press. As we enter a third decade of ultra-fast production where cost-cutting is favoured over dressmaking and tailoring, we are at risk of losing these skills altogether.
"I could geek out all day long about what you can't find any more," says Susan Dimasi, founder and designer of Material By Product. She says quality pieces do exist but their markers are so rare, you have to know what you're looking for.
Fine cloth
"It starts with the cloth, of course," says Dimasi. From the weave to the yarn to the dyeing process, "it's the real technical aspects of cloth that make it look and feel good". Quality materials should have an even finish and substantive weight. They should also bounce back when rubbed between your fingers or stretched apart.
Dimasi prefers protein fibres like wool and silk. She says they have a "natural intelligence" that makes them better to wear because they thermoregulate and don't need to be washed frequently.
These materials used to be more common. In 1975 fabrics derived from fossil fuels like polyester, nylon and acrylic represented just 30% of the global fibre market. In 2021, that figure was 64%. By comparison in 2021, wool represented just 1% of the global fibre market and silk was just under 0.2%, although the total production of most fibres has increased significantly in that time.
"I do get mad when I see very expensive designer pieces made from poly crepe – it's like they're taking the piss out of the customer," says Press. "People might say, 'Well poly is durable,' but for me it's just nasty, sweaty plastic – and the only reason to add it to a garment is to save money."
Easeful dressmaking
Although it's rare for elastane to be the main fibre in a garment, the material (also known as Lycra and Spandex) has become common in blends because of its four-way stretch.
"Elastane has been put in everything to make one-size-fits-nobody," says Dimasi. "It's doing a lot of the work that good pattern making and good construction used to do."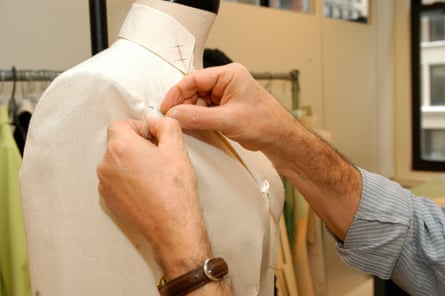 Increasingly designers are relying on that elasticity to save them the trouble of building movement and flexibility into garments through traditional techniques.
Cutting patterns that ensure ease of movement through the arms because the back shoulder is longer than the front; or adding strategically placed gathers and folds; pin tucks, pleats or darts can all make garments more comfortable – but require time and extra fabric.
"The really subtle art of dressmaking is all about putting ease in the right place," says Dimasi. "Dressmakers used to be incredibly skilful at making clothes that moved with our bodies."
These techniques mean garments adjust to the body as it changes over the course of a month, due to hormones or fluid retention, or even after eating a big meal. But they also mean garments can be altered if your size changes over the course of years.
Ensuring there is extra fabric in the seams so they can be let out at least one size is part of this too. "Seam allowances have almost disappeared from most garments," says Dimasi, and without them, "there is nowhere to go if your hips get bigger".
Natural lining
Traditionally, lining served several purposes. One was reinforcement – lined garments are stronger and hold their shape over time. Another was to prevent the outer material from showing signs of wear.
"Lining is really important in the back of the skirt because if you sit down it helps the skirt not crease," Dimasi says. "It also helps you slip your arm through the sleeve of a jacket and makes the garment hang better on the body."
Although it is almost impossible to find now, lining made from a natural material like cotton or silk, rather than polyester or acetate, also helps preserve the outer material. These materials breathe, "so they help you keep the outer garment clean and you don't have to launder it as much," Dimasi says.
Beautiful seams
There was a time when the inside of garments were so well constructed and neat, they could be mistaken for the outside. "If you looked inside a garment you used to see beautiful internal binding along the seams," says Dimasi. But techniques like this that keep seams tidy are also vanishing.
Another example is French seams, which Press says, "involves sewing [the seam] twice to encase the raw edges". An over-lock stitch – which runs in a chain pattern along the edge of the fabric to prevent it from fraying – is much quicker and cheaper, but results in a messier seam.
Functional pockets
Pockets are an obvious marker of something that's well-made because, as Press says: "It's cheaper not to bother with them, but much nicer to have a skirt or dress with pockets." But more and more, pockets are entirely absent, too shallow to use, or aren't made with suitable materials.
Dimasi says pockets used to require several steps of reinforcement. This ensured they wouldn't split or fracture under the weight of whatever you put in them, particularly at the opening where they have to endure friction from your hand moving in and out. Their placement used to be highly considered too – so they sat at a flattering point on the hips, or comfortably beneath the bust.
Thoughtful affordances
Most, if not all, the markers of quality fading from contemporary clothes are driven by cost. It takes more time to ensure the fabric has been cut so a print or stripe matches up on the seams. Or to add ribbons at the waistband for hanging, sew buttons on so they won't fall off, or provide extra thread and buttons for repairs.
Even the fastenings at the front of trousers has suffered from cost cutting. Slacks used to be fastened internally, then closed with a zip and a hook-and-eye, now Dimasi says most pairs are really just leggings with a zip up the front.
"It's so depressing. Good pants should have real pockets and real reinforcement and nicely shaped legs with a little bit more fabric."
But Dimasi hopes that if people take the time to learn about garment construction and quality, they will start demanding it (she even runs workshops on how to find beautiful, functional clothing). "If you experience the difference … you're not going to turn back."
link