Supreme Court rules for web designer who refused to work on same-sex weddings
WASHINGTON — The Supreme Court on Friday ruled in favor of an evangelical Christian web designer from Colorado who refuses to work on same-sex weddings, dealing a setback to LGBTQ rights.
The justices, divided 6-3 on ideological lines, said that Lorie Smith, as a creative professional, has a free speech right under the Constitution's First Amendment to refuse to endorse messages she disagrees with. As a result, she cannot be punished under Colorado's antidiscrimination law for refusing to design websites for gay couples, the court said.
The ruling could allow other owners of similar creative businesses to evade punishment under laws in 29 states that protect LGBTQ rights in public accommodations in some form. The remaining 21 states do not have laws explicitly protecting LGBTQ rights in public accommodations, although some local municipalities do.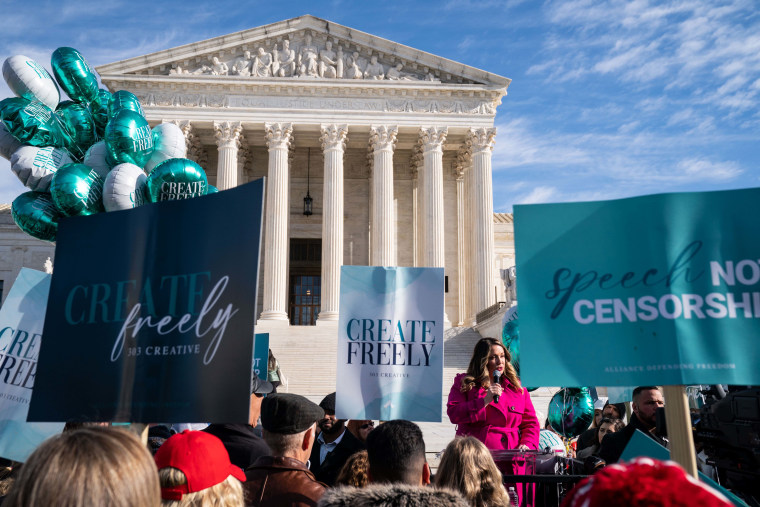 "The First Amendment envisions the United States as a rich and complex place, where all persons are free to think and speak as they wish, not as the government demands," Justice Neil Gorsuch wrote for the court.
Gorsuch, who wrote a 2020 ruling that expanded LGBTQ rights in an employment context, said that public accommodation laws play a vital role in protecting individual civil rights.
"At the same time, this court has also recognized that no public accommodation law is immune from the demands of the Constitution. In particular, this court has held, public accommodations statutes can sweep too broadly when deployed to compel speech," he added.
Smith, who opposes same-sex marriage on religious grounds and runs a business designing websites, sued the state in 2016 because she said she would like to accept customers planning opposite-sex weddings but reject requests made by same-sex couples wanting the same service. She was never penalized for rejecting a same-sex couple — and it's unclear if she ever did — but sued on hypothetical grounds.
Smith argued that as a creative professional she has a free speech right to refuse to undertake work that conflicts with her views.
"This is a victory not just for me, but for all of us; whether you share my beliefs or completely disagree with them, free speech is for everyone," Smith said at a press briefing.
Justice Sonia Sotomayor, writing the dissent, said the court's ruling was part of "a backlash to the movement for liberty and equality for gender and sexual minorities" and a type of "reactionary exclusion," calling it "heartbreaking."
In a stern voice, she read a summary of her dissent from the bench, saying in court that the decision allowing Smith to sell her product only to opposite-sex couples "makes a mockery of the law."
She compared Smith's situation to historic cases of racial discrimination in which restaurants would refuse to serve Black people inside but would allow them to collect pick-up orders from a side counter, effectively treating them like second-class citizens.
Sotomayor noted that Smith will still sell her services to LGBTQ people only if it is for an opposite-sex wedding. For LGBTQ customers, Sotomayor said, "she will sell at a side counter."
The court's two other liberal justices, Elena Kagan and Ketanji Brown Jackson, both joined Sotomayor's dissent.
Civil rights groups condemned the ruling, with David Cole, national legal director of the American Civil Liberties Union, saying the court had for the first time found that some people have a green light to violate antidiscrimination laws.
"The court's decision opens the door to any business that claims to provide customized services to discriminate against historically-marginalized groups," he added.
Jennifer Pizer, chief legal officer at the LGBTQ group Lambda Legal, said the ruling would have limited practical impact because it affects only businesses that produce custom-made products.
"Although misguided, today's decision depends on its limited, uncommon facts: This business owner takes specific commissions, unlike most commercial enterprises that solicit customers widely, and she creates unique artwork for those selected customers," Pizer said.
December's oral argument featured a colorful array of hypothetical questions as the justices wrestled with the potentially broad implications of the case. At one point, conservative Justice Samuel Alito questioned whether a "Black Santa" at a shopping mall would be obliged to take a picture with a child dressed up in a Ku Klux Klan outfit.
The case was the latest example of the conflict over the Supreme Court's own 2015 ruling that legalized same-sex marriage, which conservative Christians oppose even as Congress has moved to enact a law with bipartisan support that bolsters protections for married same-sex couples.
Smith, whose business is called 303 Creative, told NBC News she has always been drawn to creative projects but also has strongly held beliefs that "marriage is between one man and one woman — and that union is significant."
Smith sued the Colorado Civil Rights Commission and other state officials out of concern that she could be sanctioned under its antidiscrimination law that bars discrimination on the basis of sexual orientation in public accommodations, although she has not been sanctioned yet. Lower courts ruled against Smith, prompting her to appeal to the Supreme Court.
The case gave the court a second bite at a legal question it considered but never resolved when it ruled in a similar case in 2018 in favor of a Christian baker, also from Colorado, who refused to make a wedding cake for a gay couple. The court ruled then that the baker, Jack Phillips, did not receive a fair hearing before the state Civil Rights Commission because there was evidence of anti-religious bias.
State officials said in court papers that they had never investigated Smith and had no evidence that anyone had ever asked her to create a website for a same-sex wedding. Colorado Solicitor General Eric Olson wrote that there is a long tradition of public accommodations laws protecting the ability of all people to obtain goods and services.
Smith, like Phillips before her, is represented by Alliance Defending Freedom, a conservative Christian legal group, which has had success arguing religious rights cases at the Supreme Court in recent years.
The Supreme Court ruled on the baker case before the retirement of Justice Anthony Kennedy, who voted in favor of LGBTQ rights in key cases. Now, following three appointments made by then-President Donald Trump, the court has six conservative and three liberal justices.
Kennedy was in the majority when the court legalized gay marriage on a 5-4 vote. In another major victory for LGBTQ rights, the Supreme Court in 2020 ­— to the surprise of many court-watchers ­­— ruled in the decision written by Gorsuch that a federal law that prohibits sex discrimination in employment protects LGBTQ employees.
A year later the court ruled in favor of an agency affiliated with the Catholic Church that the city of Philadelphia had barred from its foster care program because of the church's opposition to same-sex marriage. In other cases in recent years the conservative majority has consistently backed religious rights.
link