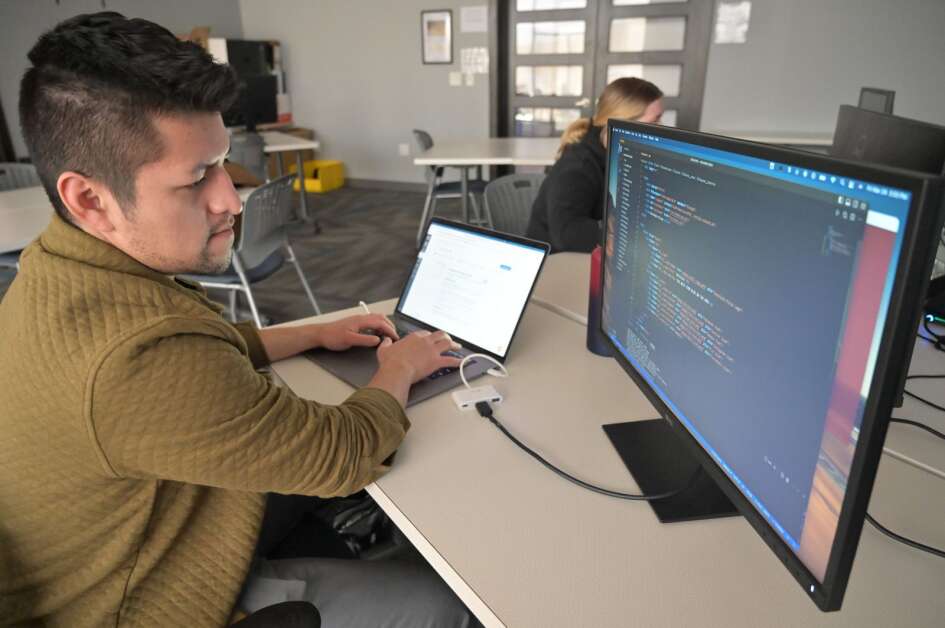 CEDAR RAPIDS — For years, instructors at DeltaV have talked about the huge career opportunities available in computer science in Iowa.
Now the school is working to prove it.
On Wednesday (Aug. 2), DeltaV is holding a Career Fair for its graduates at the Geonetric Building, 415 12th Ave. SE, from 4 to 6 p.m.
Employers will engage with students and share insights about job openings, career paths and other opportunities available within their industries.
This past Thursday, DeltaV also conducted its latest daylong Code 101 class for free, this time at the Ladd Cedar Rapids Public Library in southwest Cedar Rapids.
It's part of a strategy to bring more Code 101 classes to where the students are, rather than asking the students to come to DeltaV.
Melissa Silver, who joined the DeltaV team in 2022 as its director of student services, said the code classes and career fair are part of an effort to make computers and coding more accessible than ever before for Iowans, particularly those who are looking for a new direction in life.
"There are so many people who don't know what their next step is, or think 'there has to be something more out there for me,' " Silver says. "And the DeltaV program can give them that."
New beginnings
DeltaV offers an intensive, full-time coding curriculum that promises to turn inexperienced students into full-stack developers in just five months. The program is aimed at both young students looking to launch their careers, and older students who are looking for a fresh start.
The code school was founded in 2017 to help solve Iowa's severe technical workforce crisis. According to DeltaV staff, Iowa, on average, has 6,400 open programming jobs a month, but state universities graduate approximately 775 computer science majors a year.
Silver's role is to manage the complete student experience, from the moment they apply to the moment they graduate. She previously worked to help people get connected with job opportunities through Iowa Vocational Rehabilitation and Career Connections/Goodwill of the Heartland.
"As someone who has always loved helping people to start new careers, NewBoCo and DeltaV felt like this beacon of hope and change that was just intoxicating," she says. " I get to be the bridge that links students to a whole new life."
Bryan Gonzalez was one of those students. In 2022.
Gonzalez was working in health care when he became interested in teaching programming basics to himself with online tutorials. But when he saw the DeltaV program, he knew it would allow him to take the next step to a new career with computers.
"I really needed structure, and I realized that I could learn a lot better if I was getting instruction in person," he says. "You can do a lot on your own, but here, you get access to a lot of information just by working with other people.
"With DeltaV, not only will I be prepared for a job in tech, but with the problem-solving skills that they teach, I'll be better prepared for a new career anywhere."
Getting jobs
During the career fair Wednesday, sponsors and employers will have dedicated time to engage with students, sharing insights about job openings, career paths and the opportunities in their industries.
Silver says that local employers and sponsors currently attending include CCR, Leepfrog Technologies, CRST, Hy-Vee, Cargill, University of Iowa, Alliant Energy, Top Rank Staffing, TrueNorth Companies, Transamerica and many more.
Silver believes the hands-on approach will make it easier for students to make informed decisions about their professional journey. She notes DeltaV has a career-development component, where instructors teach interviewing skills and work with students on their resumes.
"Employers know that with DeltaV, they will get students who already have experience in developing those kinds of interpersonal skills," she says.
Silver also hopes that more employers will consider sending their existing staff through DeltaV as a way of developing from within rather than seeking new staff for tech needs.
"Right now, many people are only staying at jobs for a couple of years, but if you invest in employees and help them grow their skills, it can make them want to stay longer," she says.
Into the community
Expanding into more communities is what's next for DeltaV.
The school has played a key role in the launch of community partnership pilots in locations like Mount Pleasant and Mason City and has held Code 101 sessions in Wellington Heights and at the Ladd Library in Cedar Rapids.
Silver hopes that future partnerships could include the NewBo City Market, the Catherine McAuley Center and more. Gonzalez has offered his services as a bilingual teacher, opening up the classes to even more members of the community.
"We'd love to have opportunities to teach a Code 101 class in a very public place, so that more people can see just what it involves," Silver says.
As DeltaV continues to expand, Silver says the promise the school offers — to give students a new career and new start, no matter their background — continues to inspire her.
"There's something so magical about learning this skill set without having to get a four-year degree," she says. "This is a genuine career path that is meaningful, and allows people to stay in Iowa while working in the technology field. And that's something that we really need right now."
To learn more about DeltaV or to see the catalog of courses offered, visit deltavcodeschool.com.

link