(De)Coded: Deciphering the Dialectics of Dress was inspired by an American eight-grader who protested after her ripped jeans violated her school district's dress-code policies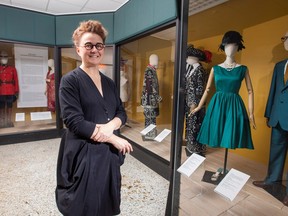 Reviews and recommendations are unbiased and products are independently selected. Postmedia may earn an affiliate commission from purchases made through links on this page.
Article content
Fashion choice is about more than just looking good. It can be an identity, a protest and a form of expression.
Article content
A new clothing exhibit at the University of Alberta examines the way fashion creates meaning beyond what is simply visible to the naked eye. The curated series of garments was inspired by an American junior high student whose first-day-of-school fashion choice led to a district-wide demand to overhaul outdated dress codes.
Article content
(De)Coded: Deciphering the Dialectics of Dress features clothing from the university's own Anne Lambert Clothing and Textiles Collection. The Lambert collection, named for professor and 35-year collection curator Anne Lambert, is one of the largest garment collections in Canada and unique in that it focuses on items worn every day, not just dress or ceremonial garments.
The exhibit has been curated by Dr. Anne Bissonnette, professor of material culture and curatorship at the U of A, along with some of her current and former graduate students. Bissonnette's lengthy education in science, fashion design and art history has led her to act as curator of the university's Anne Lambert collection for the last 12 years.
Article content
"Whether we want it or not, the clothing we wear communicates something to the people around us," says Bissonnette. "When we look at people and their environments, clothing is the first layer of our environment. It means a lot and it means different things to people so we are able to talk about all sorts of issues; of gender, of ageism, of race. There is no end to the way that our garments can be used to describe the world that we live in."
Bissonnette was inspired by a New York Times article about American eighth-grader Sophia Trevino, whose dress code protests caught international attention.
Trevino was motivated to protest her school district's clothing policies after she was found in violation of the dress code over a pair of ripped jeans. The problem was not that the jeans were ripped, it was that the location of the rips was deemed to be too high up on the leg.
Article content
Dress codes have long been criticized for disproportionately targeting girls and women, racial minorities and people from lower income brackets.
This led Trevino to adopt the slogan: Dress Codes are Sexist, Racist, Classist, which was seen splashed across the front of a sunny, yellow t-shirt students wore every Friday to protest the policies. A version of this shirt is included in the exhibit.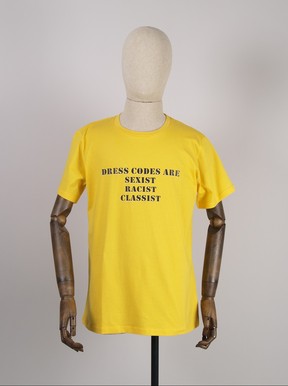 "Clothing is something that people tend to devalue in our society. Then authorities like school boards may use clothing to get away with this form of oppression, whereas they could not get away with something like banning books for example. Banning books always leads to outcry. But because people make fashion into something silly they feel more at ease to control bodies that wear these things."
Article content
Also in the exhibit is a red and black ribbon dress made by Janet Delorme of the Kainai Nation in Southern Alberta. The dress was created as an all-gender-inclusive design for Missing and Murdered Indigenous Women (MMIW). Placed right next to it is the most recognizable emblem of Canadian identity: The "Red Serge" RCMP uniform.
"We are trying to make a visual contrast here between a uniform that people look at and see with a very positive light. However, (the RCMP) were also used as government agents to remove children from certain communities and bring them to residential schools. So looking at the uniform would bring trauma for some."
Beyond the perceived or implied meanings of dress, some clothes are designed to communicate something specific. An example of this in the exhibit is St. Lucia Tete Case Headdress. The way the typically colourful piece of cloth was folded on the head signified the relationship status of the wearer.
Article content
Another notable area of the exhibit is dedicated to the charitable organization the Pearly Kings and Queens, which was founded in the 1870s by working-class orphan Henry Croft who wore suits decorated with mother-of-pearl buttons to raise money for charity. Croft's work stemmed from the tradition of street traders called Costermongers, who often wore a row of the low-cost buttons on their pants and believed it was their duty to help those in need, even if they themselves had very little to give.
"This is a very special kind of garment," says Bissonnette. "It shows meaning, of place, of people who migrated from the UK to Edmonton who wanted to continue this tradition of fundraising."
While the organization had its start in London, it quickly spread throughout England and abroad. Edmonton had its very own branch of the club that could be seen around town in their black suits decorated with ornate designs in support of the charities they were raising funds for. One example in the collection from the 1970s is a black women's skirt suit adorned with the name of cancer activist and marathon runner, Terry Fox.
Article content
In addition to a wide variety of traditional and contemporary garments, there is a green 1950s cocktail dress paired with a glamorous feather hat and matching shoes with a bespoke 1960s men's suit. Both items were selected to illustrate their gender-normative design, however, the use of a vibrant teal fabric with a conservative men's suit design calls to question what the choice of colour conveys and how that changes with time.
Moving from mid-century societal norms, the 1970s welcomed more androgynous styles worn by a greater variety of people. Several items in the exhibit are used to demonstrate this era, including a pair of funky, yellow platform boots that were purchased and worn by a local man in his youth.
Article content
Bissonnette says people often struggle to understand why she is so passionate about the study of clothing and textiles.
"I remember many conversations I've had where people say that fashion is not that important. And I say, 'Oh yeah? Let's [trade] clothes.' And you go out looking very different and you tell me how you feel and how you are perceived differently."
[De]Coded: Deciphering the Dialectics of Dress runs from now until Mar. 1 in the Human Ecology Gallery at the corner of 116 Street and 89 Avenue on the University of Alberta campus.
Textiles standing the test of time is fashion's way forward

Stanley Carroll's spring collection puts fine art and vintage fabrics on the runway
(De)Coded: Deciphering the Dialectics of Dress
Where U of A's Human Ecology Gallery (corner of 116 Street and 89 Avenue)
When Monday to Friday, 9 a.m. – 6 p.m, through March 1
Tickets Admission is free
link