The News/Media Alliance calls on 'every corner of the Administration to stand strong against Big Tech's efforts to resist fair payment'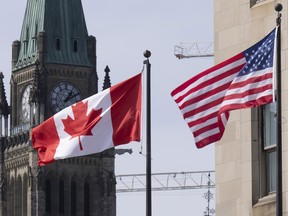 Article content
An organization representing news publishers in the United States is asking U.S. president Joe Biden to "defend local journalism" when he visits Ottawa Thursday.
Article content
In a release, the News/Media Alliance said it wants Biden to oppose "Big Tech giants seeking to undermine efforts in Canada and the United States that would help save high-quality journalism."
The Liberal government has been in a stand-off with Google and Meta over Bill C-18, which would force the companies to share revenues with broadcasters and news publishers by reaching commercial deals. Postmedia, publisher of the National Post, is in favour of the legislation.
Google blocked some Canadians' access to news on its platforms in what the company said was a test in response to Bill C-18, while Meta has promised to remove news content from Facebook and Instagram if the legislation passes unchanged.
Article content
In return, MPs have summoned executives to appear in front of the Heritage Committee — at one meeting, political parties united in criticizing Google — and have requested Google and Meta hand over internal and external communications. The Canadian Chamber of Commerce said those requests could harm the privacy and democratic rights of Canadians.
The News/Media Alliance, which supports similar legislation that has been proposed in the U.S., called on "every corner of the Administration to stand strong against Big Tech's efforts to resist fair payment that will help keep newsrooms open across the United States and the world."
Bill C-18 is currently in the Senate. If it becomes law, Canada could become the second country in the world to implement news-revenue-sharing legislation. Experts have said that because other countries are in the process of developing similar legislation, what happens in Canada could have international repercussions.
Article content
The publishers' statement follows a release from a group of U.S. organizations representing the tech sector earlier this week, which took issue with C-18 and other legislation focused on internet regulation, including the controversial Online Streaming Act.
It was signed by organizations including the U.S. Chamber of Commerce, the Computer and Communications Industry Association and the Information Technology Industry Council.
The group said it is "concerned that Canada is pursuing a number of problematic proposals and actions that could significantly limit the ability of U.S. companies to export their goods and services and fairly compete in the Canadian market."
It said C-18 "likely would require a narrow range of U.S. digital companies to pay Canadian news organizations and broadcasters for the right to display news stories, headlines, snippets, and links." Because the bill would target U.S. companies, "this policy raises significant national treatment and performance requirement concerns under the USMCA."
Article content
Heritage Minister Pablo Rodriguez was asked about the letter from U.S. tech industry Wednesday. He told reporters "what is clear is that we meet all international trade obligations."
He said the bills at issue are "not aimed at American companies" but instead will cover "any company that does this type of business."
"I had good conversations with the (ambassador) of the United States on this. We're talking to the Americans on a regular basis, so I'm very confident we're okay," Rodriguez said, according to a transcript.
Bill C-18 doesn't specifically name Meta or Google but is instead aimed at "platforms that make news content available to persons in Canada" in situations where there is a "significant bargaining power imbalance between its operator and news businesses."
Biden will arrive Thursday evening and stay through to a Friday evening dinner. Key issues expected to be discussed include Canadian defence spending and NORAD modernization, the political and humanitarian crisis in Haiti, Buy-American provisions in U.S. stimulus legislation, and the Roxham Road irregular border crossing.
link